It's not hard to find high-quality patio cover repair in Las Vegas when you rely on Shade In A Day. We specialize in building porch covers, awnings, entryway shades, and sunrooms from the ground up. We have the knowledge and skills necessary to handle your, home or business, aluminum patio cover repairs beautifully and efficiently.
Metal Patio Repairs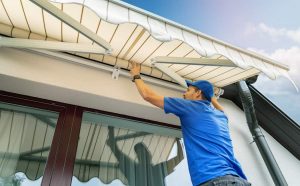 Having a porch cover or patio awning is a beautiful and functional addition to any home. It offers a place to enjoy the outdoors while protecting you and your guests from the sun and elements.
Unfortunately, this also means that your patio covers are consistently exposed to the rain, wind, storms, sun, and our Las Vegas heat. This exposure makes them susceptible to several possible damages.
Loose Awnings
Bent Or Dented Patio Covers
Broken Or Loose Supporting Brackets
Support Pole Damages
Covers Not Retracting
Panel Replacements
Elitewood & Alumawood Patio Covers
The Alumawood and Elitewood patio covers that we install are durable and require minimal maintenance. However, we offer reliable repair services for your patio covers if damage should occur regardless of the cover type.
Insulated Solid Patio Covers
Slatted Patio Covers
If your patio, porch, or entryway cover was initially installed by another company and requires repairs, we are happy to assist you. Our metal patio repair services are available regardless of the brand or who originally installed the cover.
A Great Time To Consider Upgrades
When we come to your home or business to perform your needed aluminum patio repairs, it is a fabulous time to consider new features or upgrades. We can even install new shaded areas for your convenience.
Increase the shade or privacy on your front porch, increase lighting on your back patio, or improve the space around your pool deck with additional protection from the elements.
Screens & Enclosures
Privacy Panels
Skylights
Lighting
Fans
And if you want additions or upgrades that we are not able to handle ourselves, we are happy to recommend trusted contractors that can perform the needed work.
Don't Put Off Those Needed Repairs
If you start to notice damage to your aluminum patio cover, it is best to tend to the needed repair as soon as possible. Putting off needed porch and patio repairs can result in additional damages that can cost you even more to fix.
Your Las Vegas Source For Covered Patio Repair
Don't delay, call our us right away if you notice any damage to your patio cover or awning. At Shade In A Day, we are pleased to provide aluminum patio cover repairs for Las Vegas and Henderson area home and business owners.
Contact us today for a free estimate from one of our experienced contractors.