Discover the many benefits of an insulated patio cover installation from Shade In A Day in Las Vegas, Henderson, and Boulder City. Patio and porch covers are a popular home improvement choice for both home and business property owners. Find out if an insulated patio is the right choice to update or upgrade your outdoor living areas.
What Are Insulated Patio Covers?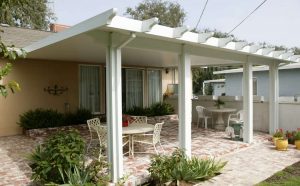 We offer high-quality aluminum patio covers for customers throughout the Vegas Valley. When you choose our laminated aluminum roof panels for your porch or patio installation, you get an extra layer of insulation with an expanded polystyrene foam core.
This core is the same type of high-performance insulation used in many energy-efficient homes and buildings. Combining insulated roof panels with our other reliable patio components and unique options results in a strong and durable custom patio cover.
Your shaded structure is functional as well as aesthetically pleasing.
Improve Your Outdoor Comfort
Insulated Allumawood patio covers are an excellent way to encourage more use of your outdoor spaces. They allow you to comfortably take advantage of fresh air and shade regardless of the weather, even during our hot desert summer months.
Create a Comfortable Outdoor Living Space
Protection From The Elements
Protects Outdoor Furniture
Provides Shade For Pets
May Reduce Energy Bills
Muffles Sound Of Rain & Hail
Customize Your Patio Cover
No two houses are exactly alike. So, why would you pick the same kit or prebuilt structure everyone else has? Wouldn't you like an insulated patio cover that blends in seamlessly with your unique home? We offer a variety of features and add-ons to help you create the porch cover that's just right for you and your family.
Choose the pillars, beams, colors, and finishes that you like. We can even custom install features such as lighting, fans, evaporative coolers, drop shades, and skylights when we install your patio cover.
Why Choose Shade In A Day?
Insulated patio installations are not a simple handyman's DIY project. You want to improve your property, not cause damage or put up an imperfect structure that will just cause you problems later.
Leave the installation of your new patio cover to the experts at Shade In A Day. We can handle your entire project from start to finish, and we have the experience necessary to do the job right.
Receive a free, no-obligation written estimate.
We handle the teardown of your current structure.
We take care of the necessary inspections and building permits.
Installation only takes one day, in most cases.
We can handle all of your custom add-ons or recommend a reliable contractor.
We offer manufacturer Lifetime Limited Warranties.
We offer affordable prices, accept credit cards, and have financing options available.
Get Ready To Love Your Outdoor Space
Shade In A Day is a locally owned and operated custom patio builder helping Las Vegas, Henderson, and Boulder City homeowners get the most enjoyment possible out of their outdoor spaces. Contact us today for your consultation and free, no-obligation estimate on a new, insulated patio cover.