Get the most out of desert living with Elitewood and Alumawood patio covers from Shade In A Day, serving Las Vegas, Henderson, and surrounding areas. The Mojave Desert is made for outdoor living, but too much heat and sunshine can put a damper on your pool party plans and nothing puts the flames out on a BBQ like a rainy day. Enjoy your backyard year-round with our gorgeous and durable wood-like aluminum patio covers.
Get The Most Out Of Every Square Foot
One of the best ways to expand the square footage of your Vegas Valley home or business is to create more usable, comfortable outdoor living spaces. Durable Alumawood or Elitewood materials are built to last with little to no maintenance. Cover a back porch, a front patio, a spa, or an outdoor kitchen. These durable shade structures can be installed onto your home or be freestanding as gazebos or pergolas.
Alumawood Patio Covers
With the best qualities of aluminum and without all the upkeep of wood, Alumawood patio covers offer an attractive wood-look finish that is easy to clean and will last for years. These porch shades can stand up to the heat and the winds we experience regularly in Las Vegas, with a plethora of decorative finish options that give them a customized feel. Teflon-coated Alumawood is perfect for your backyard, courtyard, outdoor dining area, or commercial walkways.
Embossed Wood Finish
No Cracking, Peeling, Or Warping
Termite-Proof
No Fading Or Repainting
Teflon Coated
Alumawood For Rain, Shine & Everything In Between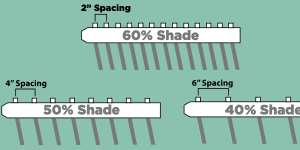 Control the amount of light you let in with latticed Alumawood patios and customizable slat widths. Solid porch covers will keep the sunshine and rain off while letting you enjoy plenty of cool, fresh air. Bonus, you'll be keeping more of your property's exterior in the shade for energy savings when the temperature in on the rise.
Elitewood Patio Covers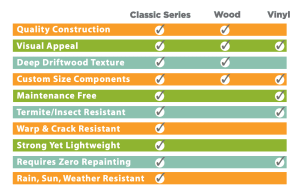 Elitewood patio covers create a serene, shaded, outdoor space, whether you choose standard, deluxe insulated, solid, skylight, or latticed installation. Offered in over ten color finishes and a variety of wood grain options, it's easy to create a unique look for your porch, patio, or as a carport add-on.
The triple coated, baked-on finish ensures a vibrant, beautiful look for years with little to no upkeep.
Realistic Wood Finish
10 Color Options
Non-Combustible
Termite-Proof
No Fading Or Repainting
Elitewood Insulated Patio Covers
Increase the energy-efficiency of your patio cover with insulated Elitewood construction. Laminated roof panels and expanded polystyrene cores are combined to create a one-piece "ultimate" shade structure. You and your guests can enjoy the comfortable, noise-reducing thermal barrier of an insulated shade without losing the beauty of wood grain or the strength of aluminum derived Elitewood.
Vinyl leaf guards keep leaves and other debris from piling up on your porch. Double-catch gutters keep water from pooling and causing problems like leaks.
Low Maintenance & Upgradeable
Why not spend more time enjoying your home? No one wants to spend time sanding, painting, and getting splinters maintaining a wood porch. Vinyl cracks, leans, and gets discolored quickly in our Vegas Valley weather, quickly becoming more of an eyesore than an asset.  You don't have to settle. You can even upgrade your Alumawood or Elitewood patio cover with add-ons and comfort options like lights, insulation, and fans.
Las Vegas Alumawood & Elitewood Patio Covers
Shade In A Day is your source for Alumawood and Elitewood backyard patio covers in Las Vegas, Henderson, and the surrounding areas. Contact us today to get a free estimate and obtain more information about our options for installing your perfect shade solution. We even offer fast, no-hassle porch and patio shade financing, so you don't have to wait to enjoy the beauty and quality of Elitewood or Alumawood.