Are you looking for the light, airy feel of lattice patio covers in Las Vegas, NV? Then look no farther than Shade In A Day. Enjoy more shade while you spend time outdoors, without completely blocking out the light and warmth of our desert sun. You can even personalize your latticed shade structure to let the perfect amount of sunshine in while still creating a cool escape from the full-on scorching summer temperatures.
Breezy Lattice Patio Covers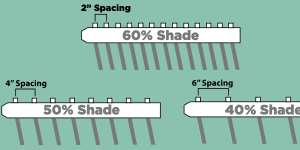 Lattice patio covers can be freestanding, in the form of a pergola or gazebo, or attached to your home or business. These shade covers have evenly spaced slats or beams along the roof section that allow light to filter through. The gaps between the beams can be large, allowing a lot of light to enter, or tightly spaced, allowing only a small amount of light in.
Many people love these slatted porch covers for their versatility and beauty. We can add upgrades for additional convenience and cooling such as fans, or shades to make them even more comfortable and luxurious.
Freestanding Or Attached Installation
Let More Fresh Air In
Choose Your Level Of Shade: 40-60%
Low-Maintenance Elitewood Construction
Many Styles & Finishes To Choose From
Attractive, Durable & Comfortable Porch Shades
No matter which product you select from us, you will find a shade that is durable, beautiful, and an outdoor space that is more comfortable. All of our aluminum patio covers are embossed to look like real wood, with none of the maintenance. So, you can enjoy your porch shade stress-free, year after year.
Lattice Shade Installation Upgrades & Decor Options
Outdoor living spaces are an extension of your home and your personal style. At Shade In A Day, we offer you a variety of decor and color options, and we have many upgrades to make your patio cover perfect for all of your home entertaining or business needs. You can choose pillars or posts, colored finishes, "wood" styles, and much more.
Some of our lattice patio cover options include:
Fans, Shades, Lights & Cooling Systems
Many Colored Finishes
Column & End Cut Style Choices

Lattice Patio Cover Installation In Las Vegas
Are you ready to make outdoor living a bigger part of your life? Contact Shade In a Day in Las Vegas to set up a consultation for a lattice-roofed patio cover. We offer free estimates and simple, no-hassle financing. We proudly serve home and business owners in Las Vegas, Henderson, Boulder City and surrounding areas with the best shade products in the Vegas Valley.