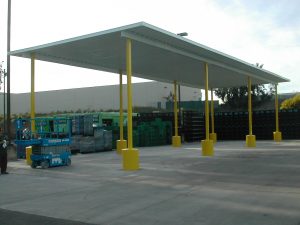 Keep your recreational vehicles out of the sun and elements with RV carports and custom RV covers from Shade In A Day in Las Vegas, NV. Our aluminum vehicle carports provide shade and shelter that is not only functional and durable, but attractive.
Beat The Heat
Your RV is an investment, and our Vegas heat can be intense and destructive. Leaving your motorhome, travel trailer, fifth wheel, camper, and toy hauler out in the brutal desert sun for extended periods can cause both interior and exterior damage.
Say Goodbye To Fading, Leaks & Mold
The sun's rays can fade paint, dashes, seats, and carpeting and cause damage to the seals of your vehicle. This leads to leaks, exposing your vehicle to further damages like rot and mold. Sun and heat exposure can also cause the paint, graphics, and trim on your vehicle to crack and peel, resulting in a less attractive RV.
Prevent Weather Damage
In addition to heat damages, RVs stored out in the elements are exposed to wind, rain, hail, and other storm and weather-related destruction. Leaves and debris can also collect on the roof, causing unsightly black streaks when it rains and washes the dirt and debris off.
Shield Your RV From The Elements
These damages can all be avoided by simply installing a quality aluminum RV cover to shield your vehicle from the various elements.
Our carport structures require little to no maintenance. We even offer you a Lifetime Limited Warranty and have financing options available.
Low To No Maintenance
Strong and Structurally Sound
Covers Can Withstand 110mph Winds
Designed For Rain Or Shine
Lifetime Limited Warranty
No Need To Repaint
No Rust
No Mold
Aluminum RV Covers
Our aluminum RV covers are made from very durable aluminum that is designed to look like wood. Our footings are secured and built to withstand high winds. We can work with your existing slab or pour a new one, whichever you need and prefer.
All The Options You Could Want
You will be able to choose the posts and pillars you like as well as the edges and shape of your carport cover. We have many decorative and ornamental options to choose from so you can find the look that best compliments the exterior of your home.
Install An RV Carport In Las Vegas
If you're ready to get your leisure vehicle out of the sun in Las Vegas or Henderson, contact us at Shade In A Day today. We look forward to giving you the best options to protect your investment with RV covers and carports, and helping you keep your vehicles looking their best.