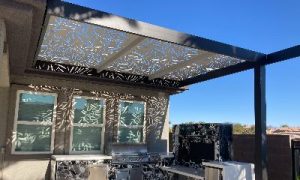 Make your outdoor relaxation areas really pop with custom and luxury patio covers by Shade In A Day in Las Vegas. We're known for beautiful Alumawood shades and desert-ready add-ons like fans, lights, and even outdoor kitchens. Now you can create sleek, modern spaces with custom laser cuts that really shine.
What If You're Not Into Wood?
For years our Alumawood and Elitewood patios have been a Vegas Valley favorite, but what if you're not into the wood look of these great options? We now have more smooth, contemporary posts in thicker grades of aluminum. You can still choose from a selection of colors for your patio supports, but you get the extra protection of gold chromate plating beneath the powder coat color.
No matter which option you choose, wood-look or smooth, all of our outdoor shades are made of low-maintenance aluminum, built to last — rain or shine — for years to come.
Adobe Tan
Apollo Gray
Espresso
Quartz White
Luxury Laser Cuts For Home & Business
You've probably seen latticed pergolas or porch roofs. They mix the shade we need everywhere from Henderson to Summerlin to North Las Vegas, with the sunshine many of us moved here to enjoy in the first place. After all, if we wanted to stay out of the sun, we'd stay inside.
With laser-cut luxury panels, you go from impressive to a lasting impression. They are a beautiful, unique mix of open feeling cover with comfortable shade. Imagine family barbecues, company walkways, or restaurant outdoor dining under eye-catching laser cuts.
These metal sunshades come in a variety of designs to suit any business brand or home decor.
Joshua Trees
Desert Oasis
Bubbles
Jungle Brush
Squares
Party Favors
Daisy Flowers
Tulip Flowers
Jasmine Flowers
Attached Or Freestanding Decorative Metal Shades
These custom luxury patio covers can be installed as attached shades to extend your square footage and cover porches, entryways, and dining areas. You can also select our laser-cut panels to cover freestanding walkways, pool cabanas, gazebos, picnic areas, or parking.
Order Your New Custom Porch Or Patio
See the available luxury style options and custom colors of our new laser-cut porch and patio covers in person. Find out more about additional customization and privacy that only adds to the look of your contemporary designs. Contact us today to schedule an appointment with Shade In A Day in Las Vegas, NV.