Trying to choose between a wood or aluminum patio cover installation? In Las Vegas, Henderson, and Boulder City you can count on Shade In A Day to set you up with porch and patio covers that look great, work great, and last. Let's look at some of the benefits of aluminum over wood to shade you.
Enjoy The Outdoors, Rain Or Shine
A new patio cover is an excellent way to get more year-round enjoyment from the outdoors when living in Nevada. You can expand your home's living space by creating more comfortable and inviting outdoor areas.
Protection From The Heat & Elements
Expanded Square Footage
increased Property Values
Improved Curb Appeal
Increase Life Of Outdoor Furniture
Wood Vs. Aluminum
So, which should you choose to shade you, wood or aluminum? A wooden patio cover may seem like the more economical option at first. When you consider the long-term costs and maintenance of wood, aluminum is the clear front runner.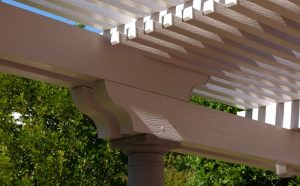 Our Elitewood and Alumawood patio covers offer a visual aesthetic very similar in appearance to wood with the additional benefits of sturdy, lightweight aluminum.
Realistic Wood Appearance
Low Maintenance
Does Not Rot Or Rust
Does Not Crack, Peel, Or Warp
Termite Proof
Can Withstand Winds Of 115+ MPH
Manufacturer Lifetime Limited Warranty
Low To No Maintenance
Alumawood and Elitewood porch covers are very easy to maintain. Because these materials are weatherproof, they can simply be rinsed if they become dirty, and you will never need to repaint. If a problem does arise, just give us a call. We stand by our products and offer high-quality patio covers.
So Many Options
When you choose Alumawood porch, patio, parking, or walkway covers for your home or business, you get options. We can create shaded areas that blend seamlessly with your existing property and have all the functionality you could wish for.
Color Options
Choose Your Edges, Rafter Tails & Covers
Pick The Style & Shape Of Columns, Posts, & Pillars
Solid Or Lattice Styles Available
Recessed Lighting
Lighting Fixtures
Skylights
Fans & Evaporative Coolers
Drop Shades
We've Got Your Shade Needs Covered
Now you don't have to choose between wood and aluminum for your patio or porch. We're offering you the best of both worlds. Get more out of your outdoor space with the addition of an Alumawood or Elitewood patio cover from Shade In A Day in Las Vegas. Contact us today for more information and to schedule your no-obligation estimate.