Shade In A Day sells and installs beautiful, innovative, high-quality Girard retractable awnings for homeowners in Las Vegas, Henderson, and Boulder City, Nevada. You may have a beautiful patio, but find our harsh desert sunlight too bright and too hot. Glaring sunshine and unexpected rain showers can quickly cause us to abandon our fun, outdoor plans. Retractable patio awnings are a versatile solution to help you and your family enjoy your backyard all year long.
What Is A Retractable Shade?
Unlike a freestanding patio cover or static awning, retractable canopies or shades are mounted directly to the side of your home or existing patio cover and extend over your door, windows, porch, or deck whenever you need cover.
When you are finished or wanting a little more sun, these motorized shades retract into their low-profile housing units. This way, you have options and can be sure that your awning is being protected when you aren't using it.
Benefits Of Retractable Awnings
Retractable porch awnings are so popular because they look great, give you shade and cover only when you need or want it, and they don't block your views. They add an extra feel of style and luxury to your patio. With a variety of fabric choices and colors available from trusted companies like Sunbrella and Marlen Textiles, our awnings can help you create an impressive outdoor look, among other versatile benefits.
Create more living space outside, adding value to your home.
Awnings give you protection and an escape from the sun so you can enjoy your patio, pool, or backyard more.
Extend the life of outdoor furniture by protecting it from wind, rain, and sunlight.
You can simply retract your awnings when the weather turns cold, or a bad storm threatens your neighborhood.
With a patio shade, you may not need as much energy to cool your house, which means huge savings on your air conditioning bill.
Our awnings are low maintenance. The fabric is easy to clean, and the retracting mechanism is made from durable parts to give you years of use.
Our shade covers are made of specially treated, heavy-duty fabrics that are water-resistant, fade-resistant, and mold/mildew resistant.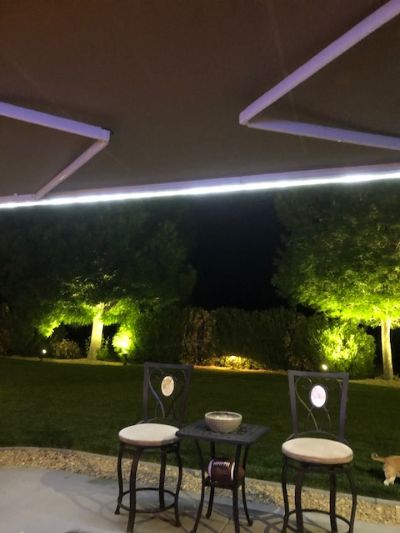 Benefits For Your Business
Add visual appeal, attract business, and provide a shady getaway for tired shoppers with distinctive commercial retractable awnings. Enhance your brand, decrease cooling costs, and increase your usable outdoor space. In addition to practical benefits, adding a motorized awning to your business is an easy way to invite in a little more color.  So many types of businesses can benefit from the commercial applications of a Girard retractable shade.
Medical & Professional Offices
Restaurants & Cafes
Clubs, Bars & Bistros
Music & Sports Venues
Car Dealerships & Garages
Retail Stores
Hotels
Shade In A Day & Girard

True to our name, our team of licensed professionals will install your new Girard awnings quickly. We handle inspections and all required building permits, so you only have to worry about how you'll enjoy your new awnings. We believe in our quality of shades and installation, so we also offer a lifetime limited warranty.
At Shade In A Day, we choose dependable products that will stand up against Vegas weather and bring our customers satisfaction for years to come, that's why we recommend and install Girard retractable awnings. Girard has been designing and manufacturing custom awnings for decades. The combination of experience and innovation put these motorized awning solutions at the head of their class.
Retractable Awning Installation In Vegas
Are you considering retractable awnings for your home? Contact us at Shade In A Day and get your free estimate today. We look forward to sharing all the benefits of this exceptional brand with you and getting your patio cool and summer-ready in no time.