Add convenience and prevent damages from the elements with covered parking in Las Vegas by Shade In A Day. Shaded parking structures are beneficial for both businesses and homes. Learn more about the advantages of our covered car and RV parking options.
Covered Parking – Overall Benefits
How can covering parked cars benefit your residential or commercial property? It keeps both people and vehicles out of the elements, especially our Las Vegas heat. This is attractive for a variety of reasons.
Protection From The Sun & Scorching Temperatures
Protection From Flying Animals & Their Droppings
Protection From Falling Branches & Other Debris
Lower Temperatures In Sitting Vehicles
Cooler Interior Seating, Dashboards & Steering Wheels
Quicker Vehicle Cooling Time After Sitting
Prevent UV Damage To Vehicles
Car Shades For Businesses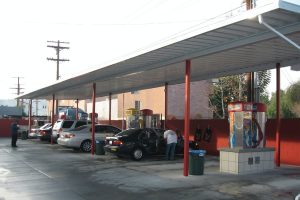 Keep employee cars cool, make sure you always have a premium spot at work, or attract new customers. Whether you're protecting clients from the sun, work vehicles from the rain, or shading car wash bays, shaded parking is good for business.
Assigned Parking & Reserved Parking For Employees & Guests
Show Your Customers & Clients You Care
Protection From The Elements For You & Your Employees
Increased Appeal For Potential Commercial Building Renters
Increase In Property Value For Commercial Buildings & Properties
Better Privacy, Security & Safety
Residential Covered Parking
Shade structures are great for homes too. The less time your luxury vehicle or RV sits in the sun, the longer trim, paint, and interiors will last. Imagine walking out to your car without having to worry about scorching seats. Loading and unloading on a rainy day are a lot easier under the protection of a custom-built awning or carport.
Protect Your Vehicle Investment From The Elements
Custom Sizes To Fit Recreational Vehicles & More
Shaded Areas For Storage & Relaxing
Possible Insurance Discounts For Protected Parking
Raise Property Values & Curb Appeal
Less Restrictive & Less Expensive Than Building A Garage
More Time Between Car Washing & Detailing
Easily Customized To Fit Home Aesthetic
Custom Built Parking Shades
At Shade In A Day, we can custom build your covered parking areas to fit the space you have and the style you want. Match your business properties or home style and add options like fans or lighting for extra convenience. Why not extend your available shades with a matching covered walkway leading to your business entrance or front door?
Get Covered Parking In Las Vegas
At Shade In A Day, serving you in the Las Vegas and Henderson areas, we let you choose the look and feel of your covered parking area. Our competitive pricing, professional carport builders, and warranties assure that you will be happy with your new RV cover or parking shades for years to come. Contact us today to get your free estimate.