As a leading Las Vegas sunroom builder, Shade In A Day is happy to offer many add-ons and styles that are perfect for your Las Vegas or Henderson home. Nothing will transform your home, quite like the addition of a beautiful custom sunroom, solariums, conservatory, or "Florida room".
Enjoy The Outdoors Year-Round
The addition of a sunroom means additional space to enjoy both light and nature in the comfort and shade of the indoors, year-round. You might think that it's too hot in Las Vegas for a sunroom, but you would be wrong! We use patented glass technology to help you enjoy both the hottest days and coldest nights, and all the days in between.
Your new shaded patio enclosure will provide a beautiful space for family fun, entertaining, curling up with a good book, or enjoying that morning cup of coffee. You can choose a climate-controlled environment, or even set up a humidifier or mister to make it a steamy place to be.
Custom Design Options – Colors & Styles
Add-ons Like Fans & A/C, Heating, Misters
Expands Square Footage
Increases Home Value
Enhances Curb Appeal
Improves Natural Light
Allows Enjoyment Of Outdoor Views, Rain Or Shine
Our Many Enclosed Sunroom Styles
Our sunrooms are customized to fit your family's lifestyle and enhance the beauty of your home. These patio enclosure designs can be built in a variety of sizes and styles, including straight eave sunrooms, curved eave sunrooms, cathedral sunrooms, and conservatories.
Paired with your choice of structural material options, frame finishes, door choices, and other features, we will create a truly custom and one of a kind sunporch.
Straight & Curved Eave Sunrooms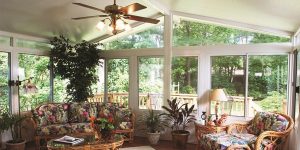 With the simplicity of its straight lines, the straight eave style offers a simple, modern-looking sunroom for a seamless addition to any home and is available with a solid insulated roof or glass roof.
A curved eave style is a sunroom patio enclosure that includes an elegant curved eave to compliment the symmetry of your home's existing roofline. This polished look is popular with many homeowners.
Cathedral Sunrooms
Our cathedral glass sunrooms feature a vaulted ceiling with glass walls. The front peaked wall welcomes maximum light and helps increase your outdoor views. This option offers dramatic use of light and space to create an elegant, airy, open feel.
Conservatory Style Enclosures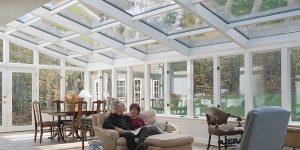 The conservatory-style porch enclosure consists of a glass room that pairs this classical architectural design style with the convenience of an energy-efficient and maintenance-free modern structure. The traditional style and contemporary construction create a luxurious space that can be enjoyed year-round perfect for everything from star-gazing and bird-watching to opulent enclosures for your spa or hot tub area.
The Smart Choice For Vegas Homeowners
Shade In A Day is the smart choice for Vegas homeowners looking for a sunroom installation, covered patio add-on, or porch shade enclosure. We offer free, no-obligation written estimates for our work and take care of the entire process from permits to clean up. We use Alumawood, and Elitewood for a strong, durable, and damage-resistant product that won't rot, splinter, or warp like traditional wood does.
Contact us today to schedule your consultation and experience the transformation of a new sunroom installation first-hand.